Signature Service Projects
Our Kiwanis club is comprised of volunteers of all ages and backgrounds who give back to the community through signature hands-on service projects that make a meaningful impact.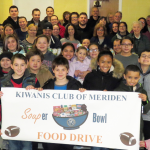 The annual Kiwanis Souper Bowl Food Drive is a community-wide food drive to support the Meriden Soup Kitchen in the weeks leading up to the NFL Super Bowl. It is a hands-on service project that involves Kiwanis holding a food collection and our Service Leadership Programs (SLPs) holding food drives in their schools during the month of January. The Souper Bowl is a competition between the SLP clubs to see which club can collect the most food items.

The project culminates the day before the NFL Super Bowl when Kiwanians, SLP members, parents, advisors/teachers, and Soup Kitchen volunteers gather at the Soup Kitchen to deliver and count their donations, sort the food by type, and stock the shelves. We also announce the SLP club that has won the Souper Bowl! Since 2017, Kiwanis has collected and donated 24,396 food items and $3,808.00 to the Meriden Soup Kitchen through the Souper Bowl Food Drive. Read the Record-Journal's article about our 2021 food drive. Click here to learn more.
---
StoryWalk®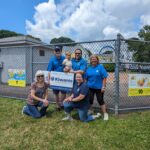 StoryWalk® is a fun, educational activity that places a children's story along a walking route in the community. It was created by Anne Ferguson of Montpelier, VT to inspire parents, teachers, and caregivers to take young children outdoors to combine physical activity with learning.

We presented our first StoryWalk in 2018 using That's not a daffodil! by Elizabeth Honey. We secured reproduction permissions, enlarged the pages of the book, had one of our members translate the story into Spanish, and printed the book on large panels of corrugated plastic. We installed the StoryWalk on a bridge during Meriden's annual Daffodil Festival and it was well-received by the community. After the success of our inaugural StoryWalk, we now have a number of StoryWalks that are displayed throughout the year in various Meriden parks. Our collection of StoryWalks includes: That's not a daffodil!, Stewie the Duck Learns to Swim by Stew and Kim Leonard, Jack by Meriden-born author Tomie dePaola, Ada's Violin by Suan Hood, and Strega Nona by Tomie dePaola. Read the Record-Journal's article about our StoryWalks.
---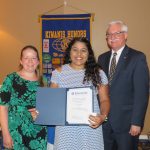 In the spirit of Kiwanis and its mission of Serving the children of the world, Kiwanis Club of Meriden Education Awards annually recognize high school seniors who have demonstrated a commitment to community service and school activities. Academic performance and financial need are also taken into consideration. Graduating high school seniors living in Meriden are eligible to apply and recipients are recognized in May/June. The Education Awards program was established in 1952 and since then, the club has presented 227 awards totaling $239,000. Click here to learn more.
---
Bicycle Safety Day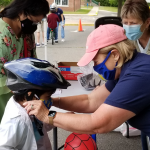 Our Kiwanis Bicycle Safety Day (also known as our "Bike Rodeo") teaches children valuable bicycle and traffic safety lessons featuring a bicycle course with skill stations and traffic simulations. Kiwanians fit each child with a free helmet, guide them through the course, and distribute bicycle safety information to the children and their parents. In order to reach more children, our Bike Rodeo takes place at a different elementary school location each year. We have also brought the Bike Rodeo to the City of Meriden's Children's Health and Safety Fair.
---
Walter Deptula Public Speaking & Essay Contest
The Water Deptula Public Speaking & Essay Contest was started in 1984 in memory of long-time Kiwanian Walter Deptula to recognize outstanding writing and public speaking by 8th grade students. Each year, students are invited to write an essay of approximately 400 words on any subject. The English Language Arts Departments of Edison, Lincoln, and Washington Middle Schools select the six best essays from their respective schools as finalists. The six finalists from each school advance to the Deptula Contest. Each student's written essay is read and scored by a panel of judges, and students present their essays orally for the judges to review. The judge's scores determine each school's first, second and third place winners in both the essay and public speaking categories. Watch the 2021 Virtual Deptula Public Speaking & Essay Contest.
---
City-Wide Spelling Bee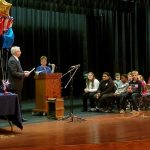 Kiwanis has managed the City-Wide Spelling Bee since 2015. Presented in partnership with the Record-Journal, the competition is open to Meriden 5th and 6th graders. Elementary and middle schools hold preliminary bees in their schools and the top speller from each school advances to the City-Wide Spelling Bee in April. The annual Bee is a public event and its location changes to a different Meriden school each year. Read the Record-Journal's article about the 2016 Spelling Bee.
---
Little Free Library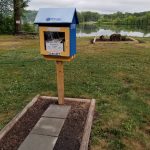 To celebrate our 90th anniversary in 2020, the Kiwanis Club of Meriden built a Little Free Library near the Meriden Linear Trail. The Library is always stocked with free books for community members to borrow, exchange, or keep and is located near the Kiwanis bench and garden at the head of the Hanover Pond Trail. Find our library (Charter #98904) on the Little Free Library map!